Airtable vs. Notion
Choosing a software program to capture, preserve, and analyze company data is one of the more significant decisions a manager or owner can make. Without accurate historical and current data, it's difficult to know where to make improvements and where your time should be focused.
If you're a web design agency who is managing multiple clients, projects, and individual tasks, a project management system and client system can prevent chaos. If you manage real estate property, run a construction company, or sell goods online or offline, an information management system is a critical part of day-to-day operations. 
Most industries have one or more well-known software platforms for managing data. Unfortunately, they often lack customization options and are proprietary. They lock you into their established formats and make it difficult and expensive to customize or expand to your business requirements. 
Instead of trying to fit your business needs into their non-conforming format, there are other options available for you to easily create what you need! An easy-to-use custom database solution can be a perfect fit. 
Airtable and Notion are two online information storage, content, and database software platforms. Both are designed to store your essential data in a structured format helping you make informed decisions to guide your business. 
In this article, we will cover the features of Airtable and Notion, the pros and cons of each, and ratings for ease of use, price and value, extensions, and support so you can make the best decision for your business.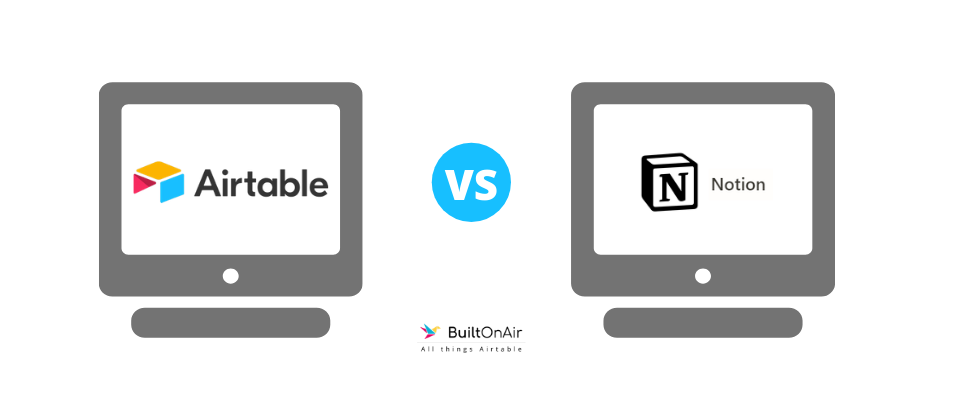 About Airtable and Notion
Airtable and Notion are in a similar category of business-based customizable software to store your critical information such as construction projects, residential and commercial properties, or sales data. Both products provide a centralized location to quickly reference documents and information so you can make company decisions.
Both are considered 'no-code/low-code' platforms allowing non-programmers to create a custom database structure with only a few clicks. Low-code platforms are projected to have a 40% market growth by 2022. (1)  
Airtable is an all-in-one online hybrid database and spreadsheet for managing business data and enhancing team and department collaboration. It was founded in 2012 and is used by over 80,000 companies. Their mission is to democratize software creation by enabling anyone to build the tools that meet their needs. Their belief is that the person who knows how to best do your work is you and it's also why you're the best person to create the software you need to do your work…without having to know how to write code.
Notion is an all-in-one workspace with dozens of LEGO-style digital building blocks to create exactly what you need. It was founded in 2016 and claims to have over a million users. They want to empower everyone to shape the tools that shape their lives. This means giving everyone the building blocks of productivity — notes, docs, tasks, databases — and the flexibility to combine them in new, creative ways.
Why Your Business Needs a Better Solution
As a company owner or manager, you oversee the achievements and health of your business. It's imperative to have a software platform that helps you analyze your company information. 
Airtable and Notion offer businesses a solution to strengthen their unique proposition in their respective industry. This is accomplished through better data visualization and an increased understanding of the overall outlook.
Why We Use Airtable
At BuiltOnAir, we are Airtable fanatics and use it to run our own businesses. Its customization features and flexibility make it a fantastic solution for companies in all different industries. 
With Airtable, you can store any type of information in its original format. With an easy-to-use interface, you can create your own custom app in a short amount of time. You don't have to know how to use databases or be a programmer to make Airtable work for your business.  
With Airtable, you can create your own custom layout using the simplicity of drag and drop. Each custom app in Airtable is called a Base. Airtable bases contain Tables and Fields. Fields include a variety of options such as Text, Numbers, Data Relationship Links, Barcodes, Users, Checkboxes, Formulas, and many more.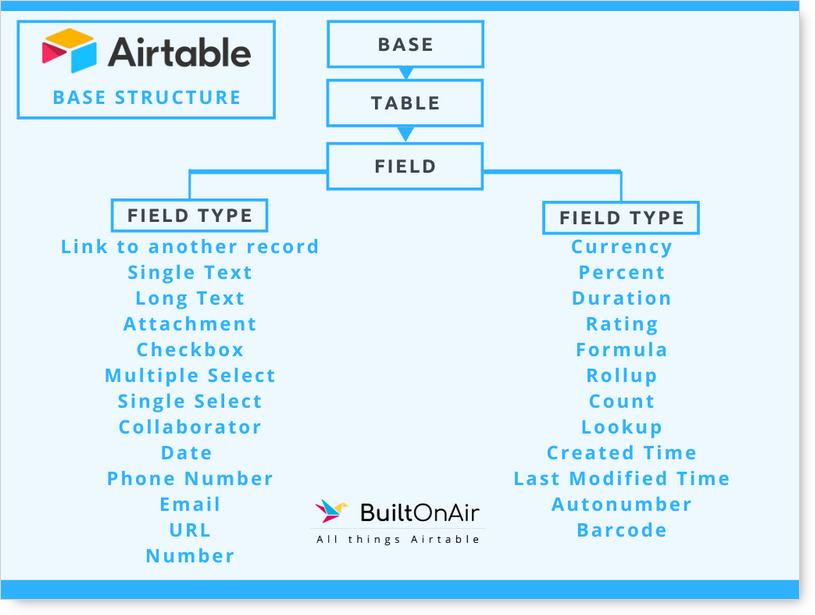 It also has multiple views such as Grid (spreadsheet-view), Calendar, Gallery, Kanban, and Form, enabling you to transform your data any way you like.
Airtable has special app fields that live on top of your Airtable bases called Blocks. Blocks expand your data even further to manage and maintain a dashboard of what's most important. Blocks include options such as Emailing and Texting directly from your base, Maps, Charts, Scripts (Custom Code), and several other helpful upgrades. Read all about Blocks on their site.
Airtable extends to almost any other software platform you use to run your company with On2Air: Actions. An advanced connector, On2Air: Actions, integrates your Airtable data with over 2,000 additional apps.
Create powerful business processes with almost 20 additional action options beyond the standard Airtable actions. 

On2Air: Actions is the solution you need to optimize your systems and enhance the information flow between Airtable and other apps.
To get started with Airtable, check out their Getting Started Guide. Then head over to their extensive collection of pre-made templates and view the amazing community-submitted templates.
Features of Each Platform
Here are the most common features of Airtable and Notion.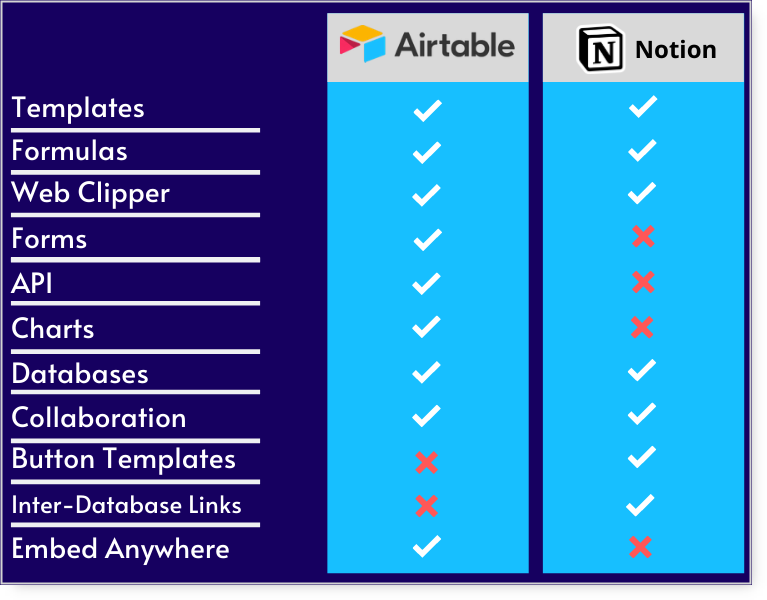 Pros and Cons of Each
Both apps can transform your business. Here are several pros and cons of each. 
Pros of Airtable
​Airtable is a modern app-like platform allowing you to quickly organize and view your data structure your way. It has multiple field types and multiple views.  
Attachment uploads directly from storage provider

– Connect to your Dropbox, Google Drive, or Box account and upload any file directly to your base.

Embed an Airtable database in any website

– Change your data in Airtable and it's automatically updated on your website without logging into the site.

Create charts displaying dynamically updated snapshots of your data

– Use a bar, line, scatter, pie, or donut chart to analyze your information.

Send text messages and emails directly from your base

– This can be used from anything to communicating with your clients or sending order confirmations.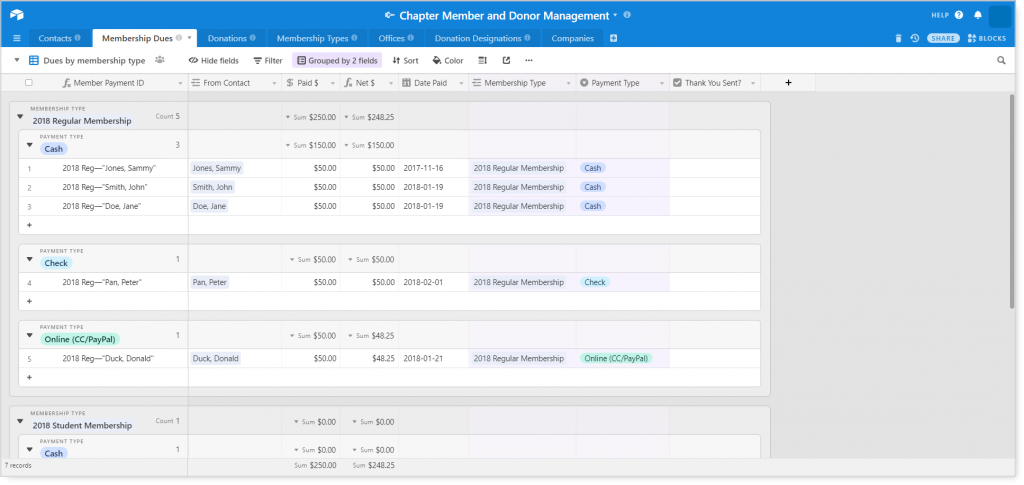 Airtable "Chapter Member and Donor Management"
Pros of Notion
Notion pages are created using blocks of various data types organized your way. Create text, tables, databases, to-do lists, and more with one click. 
Button templates

– Customize a pre-made button to use as a template for any sort of structure.

Multiple types of content on one page

– Add code blocks, dividers, dates, collaborators, tables, and files on a single page.

In-depth data linking

– Add multiple content types to any page, then add a page inside a page with content. You can add pages and content inside each other endlessly.

 Web clip from anywhere without having to set it up

– Simply grab the web page and add to your table.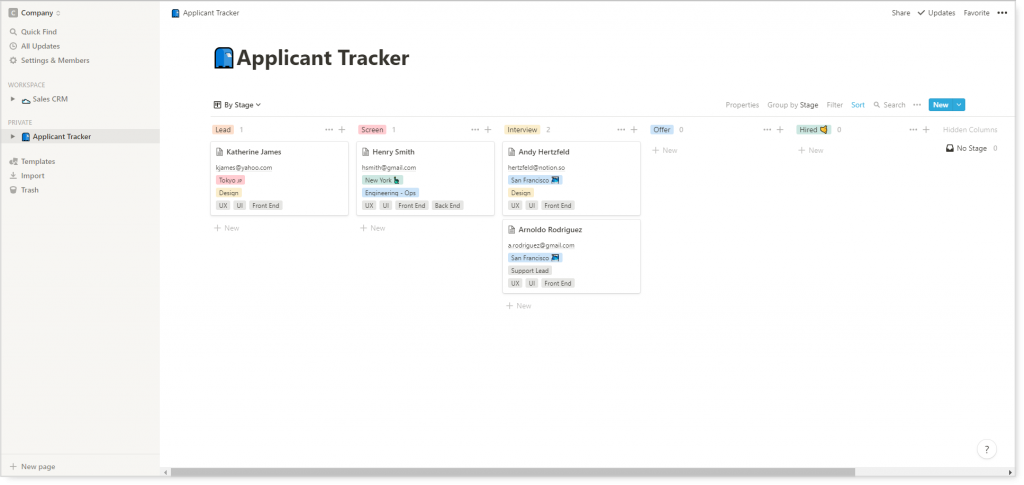 Notion "Applicant Tracker"
Even though both are customizable solutions for your business, no software platform is perfect. Let's look at the cons of each app.
Cons of Airtable
Mobile experience lacks many of the web app features

Navigation for databases is more separated 

Lacks cross-base linking

No premade template buttons to use inside base
 Cons of Notion
No API to integrate with other tools

Lacks direct uploading from storage providers such as Dropbox, Google Drive, and Box (they depend on public file embeds instead)

No color customization for tables and rows of data

No table grouping by selected field options
Platforms Available
Airtable is available as a web app so you can use it anywhere you have access to the internet. They also have a macOS app, Windows app, and it's available on both iPhones and Androids. An extra feature is their Google Chrome extension, which allows you to grab anything from the web and add it to Airtable.
 Notion is a web app so you can access it from most major browsers. If you prefer a desktop version, they have both a macOS and Windows version. For on-the-go, it's available on both iPhone and Android. They also have a Web Clipper for Google Chrome and Firefox.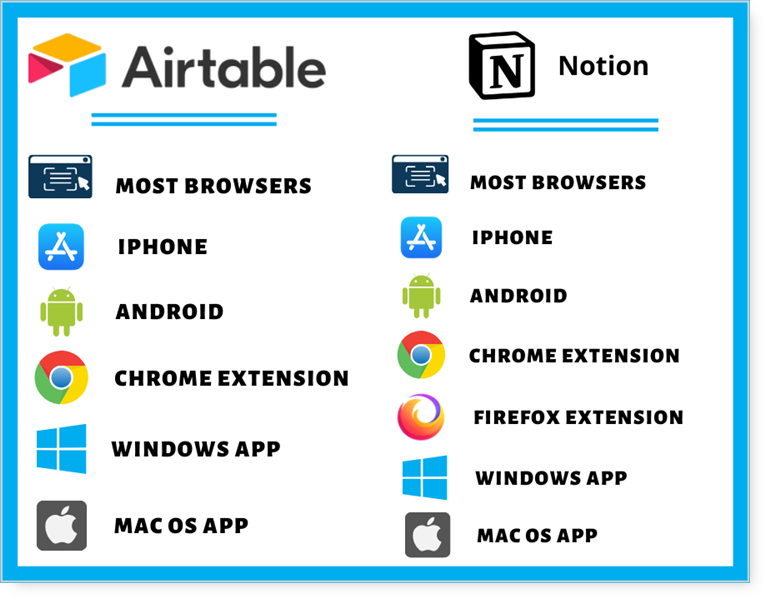 Ratings 
Let's rate the most common functionalities a business looks at when searching for a reliable software platform. These include ease of use, extensions and add-ons, price and value, and support. 
Ease of Use
Both
Airtable's modern interface feels like many other apps you already use. It's easy to create and navigate, and with a few simple instructions to start, you can get your entire company on board quickly.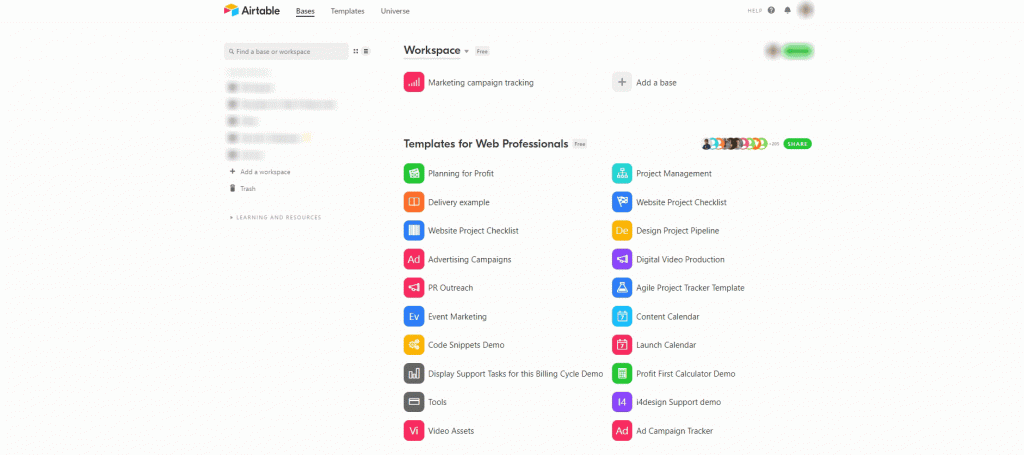 Adding a template base in Airtable
Notion feels a little outdated in style but it's easy to navigate with a navigation sidebar. They also have templates built-in to create and go.
Extensions and Add-Ons
Airtable
Airtable has more built-in integrations and also has an API to connect to other services. 
Airtable integrates with Slack, Clearbit, Google Hangouts, Google Drive, and JotForm. JotForm's integration with Airtable can be extended for maximum customization using On2Air: Forms. 
Airtable also has integrations with Sendgrid and Twilio so you're able to send text messages and emails directly from an Airtable record. Some of these integrations vary by price plan.
Notion's only custom integration is Slack. The remaining connectors are embeds from products such as Figma, Typeform, Codepen, and more.
Price and Value
Both
Both apps have similar pricing structures depending on your individual or team's requirements. Notion's Personal and Team plans are less expensive than Airtable's Plus and Pro plans. However, Notion lacks integrations with other apps making it not usable for many. 
Airtable offers a free tier for individuals to use as long as they need with many of the great features included except Blocks. Because Airtable is an online database giving you the option to organize any department, business function, or data, including using it for project management, it has tremendous value.  
Airtable has a $10 a month paid annually Plus plan, best used when you need to store more data. They have a Pro plan with upgraded features for $20 a month paid annually or $24 paid month-to-month. It includes features such as Blocks, advanced calendar options, custom colors, and branded forms. An Enterprise plan is available for organizations with a need for more administrative controls and dedicated support.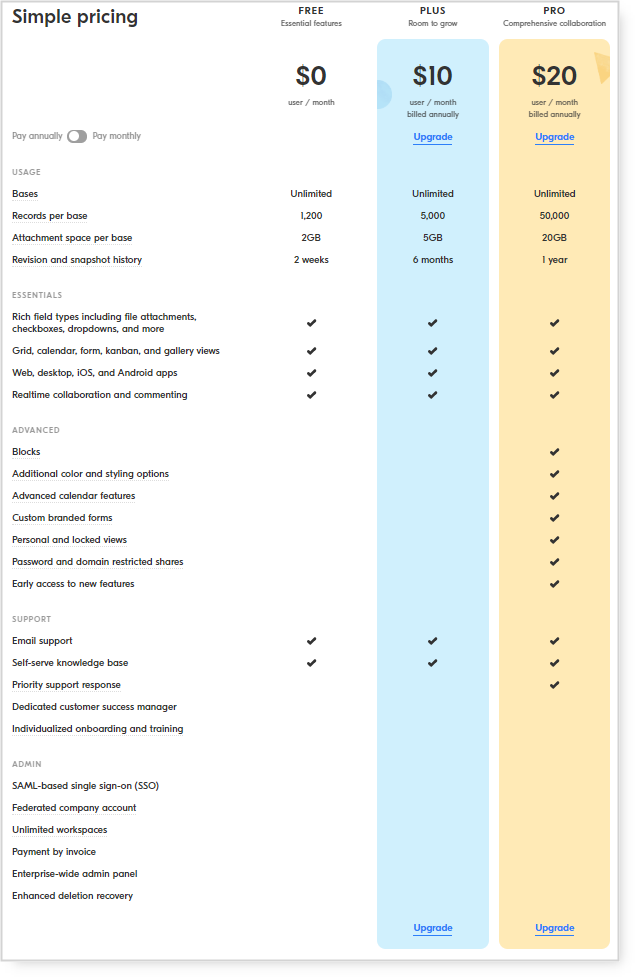 Notion has a free tier with certain content and upload size limits and no version history. Their Personal plan is $4 a month paid annually or $5 a month paid monthly and has unlimited content and attachment space.
Their Team plan is $8 a month paid annually or $10 a month paid monthly and includes the same space size as the Personal plan and also includes admin tools and advanced permissions.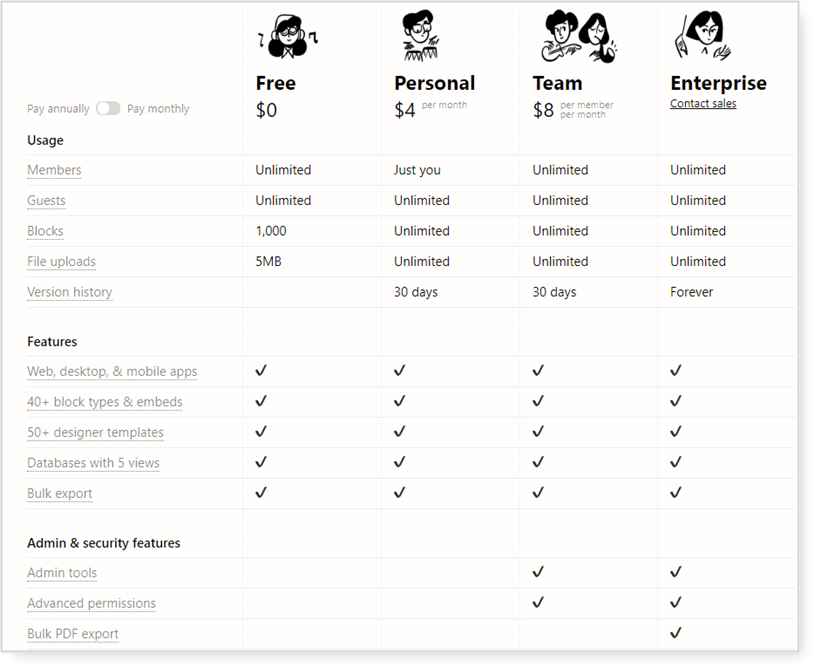 Both platforms have optional Enterprise plans for larger organizations.
Support
Both
Airtable support is available by chat or dedicated support on the Enterprise plan. Airtable replies within 1-2 days or quicker with priority support. Notion support is available by email or chat. The Personal and Team plan include priority support.
User Reviews
Airtable
Airtable has a rating of 4.6 out of 5 on G2. 

Common positive reviews state Airtable helps with better document management, project collaboration, and easy integration with other software tools.
.

Gerald H., Account Manager, raves about the collaboration aspect, "Getting all the members of a team together, whether it's just people in your own company or clients as well, can be a hassle when it comes to scheduling meetings through calls or in person. Airtable lets us enter and configure all the key details of projects in an internet-based work area with tools that are easy for most people to use. I like that Airtable keeps the main panels and cells simple with the primary information about tasks. We can easily change the status of each task to keep other team members updated."

Nur Hana S., stays organized with Airtable, "It is an ideal application for the reorganization of lists of group tasks, and it organizes activities like job interviews, meetings, and other essential tasks. Any member of the team can use the spreadsheets, and its file attachment system allows you to share them during real-time editing. It also has an excellent file sharing control, in which you can retrieve lost information from the central database easily."
Negative reviews claimed a desire for more custom design and a need for more granular permissions for various users.
Notion
Notion has a rating of 4.4 out of 5 on G2.

Several positive reviews stated it was amazing for task management and it also allowed users to consolidate their information from multiple apps into just one.

Andrew F., Digital Strategist, is enthused about Notion, "Notion is like creating a "second brain" for yourself. It's so incredibly flexible that you can build anything with it—from tables to article databases to galleries. It's one of those apps that you download and then delete 10 other apps because they're now unnecessary. I use it for documenting processes, creating vision boards, tracking goals and tasks, managing projects…what CAN'T you use it for?"

Nicolet G., Small Business Owner, uses it as a repository for personal and work needs, "I love the flexibility of Notion; I use it for anything: It's my non-distracting writing app, my task-list, my project management tool, and the platform I share content with my students. The fact that I can use my backgrounds and icons helps it fit in with my brand. I also use it for personal stuff: Planning my vacation, storing recipes, lists of books to read, and a wishlist that I share with my husband, so he knows what presents to buy me. To be short: Except for my bookkeeping and invoicing, all my life and business is in Notion."
Negative reviews included a tempermental mobile app that randomly logged out of the account and loaded slowly. Others also stated a bland design and difficulty searching a workspace.
How to Migrate from Notion to Airtable
If you are ready to make the move and migrate from Notion to Airtable for more in-depth databases and structure, it only takes a few steps. 
Airtable allows for CSV imports and and Table-style copy and paste imports. 
Notion gives you the option to export a whole workspace at once as HTML, Markdown, CSV, and PDF (Enterprise only).
The best way to migrate your data from Notion to Airtable is to export your Notion workspace as Markdown and CSV. This will export all your pages as a ZIP file.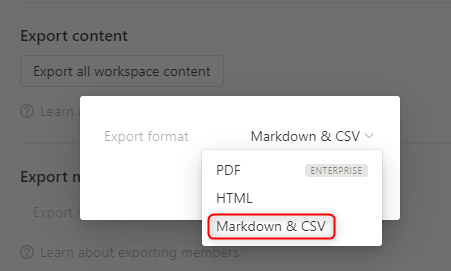 Your pages with table databases will export in CSV format and any text files will be in Markdown format. Once these are downloaded, you will right click the ZIP file and Extract All. 
In Airtable, click Add a base >  Import a spreadsheet.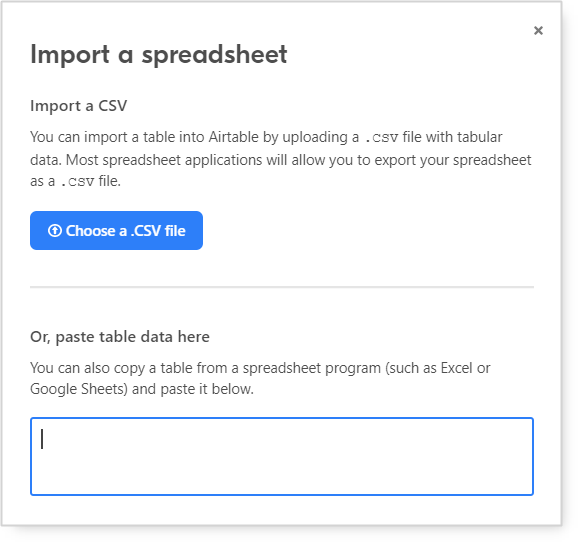 Next, you will click Choose a .CSV file and choose one of your CSV files. Then click Upload.

Airtable will create a new field for each CSV column header and then add each row in your CSV as new records rows in Airtable.
You can then go into the Base and change the Column Field Types to fit your specific data needs. 
You will need to manually add each Markdown file to your Airtable fields. While Airtable's rich-text formatting in the Long Text field accepts Markdown format, it does not recognize Markdown styling when pasted from an external source. Your text will be pasted, but will not maintain Markdown-styling.
It won't be perfect at first and will take some data adjustments. (No software transition is completely seamless!) However, once you begin using Airtable, you will quickly see just how simple and awesome it is!
Additional Airtable Resources and Tools
BuiltOnAir is your resource for all things Airtable. We have a directory of the best Airtable Product Extensions and Tools, Communities, Consultants and Service Providers, and Scripts. If you want to read about specific industries using Airtable, check out our Ultimate Airtable Industry Guides. We also have a podcast featuring Airtable users from a variety of industries and companies.
If you want to stay up to date on all things Airtable, subscribe to the BuiltOnAir newsletter for a weekly update of all things Airtable and community-related. We never send promotions (other than the occasional note from our sponsor, Openside), and do our best to curate the most relevant content in the Airtable space.
On2Air | Openside
BuiltOnAir is proud to be sponsored by Openside, a talented consulting and development company that has built advanced integration and workflow tools for Airtable. 
As the only provider of premium products and services for Airtable, Openside not only builds Airtable integration tools but supports them with a unique array of services and solutions for companies. 
Two of the best tools for Airtable business professionals are: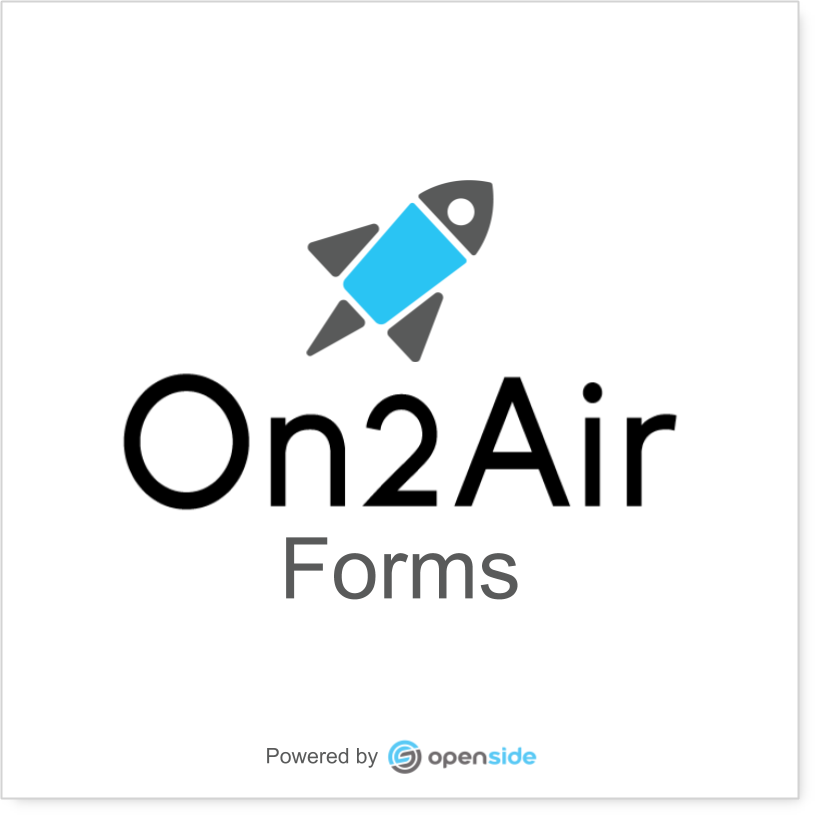 On2Air Forms combines JotForm's robust form-building capabilities to pull Airtable data into your forms and then push form responses back to Airtable.
Key features:
Pull any data from your Airtable databases into forms
Search within databases for form options
Auto-populate forms from pre-existing data
View names or filters from Airtable in your forms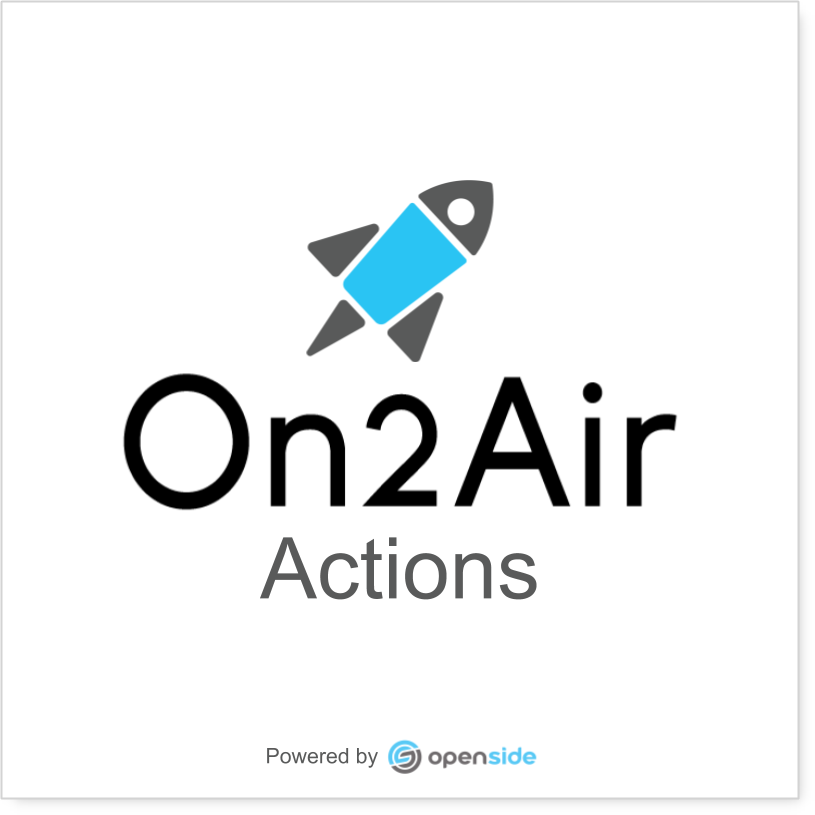 An advanced integration and automation tool perfect for workflows. With this tool, you can:
1) Integrate Airtable with a large variety of apps used in your workflows and reduce manual work 
2) Gain access to advanced options (not possible with other Airtable connectors on the market) to make everything more simple and powerful
Key features of the On2Air: Actions tool:
Trigger changes to your bases from a large variety of choices
Update or delete fields and records according to desired criteria
Find or create records according to ID, views, or other options
Pull data from external systems into your Airtable schema automatically
Summary
When choosing an information management software, Airtable and Notion are both helpful tools for structuring your business insight and keeping your company on track. 
Each has a variety of features to use depending on your unique requirements and services. If you want a powerful database solution that's easy to set up and organizes your data, Airtable is a top choice. If you want lightweight databases with a notebook layout, Notion would be the solution for you. 
At BuiltOnAir, we are advanced Airtable users and business owners and have seen how versatile it can be for anyone. It's an innovative online, relational database but practical enough to be extended throughout your entire company. We recommend Airtable as an easy-to-use solution for customizing your business needs.
(1) https://go.forrester.com/blogs/why-you-need-to-know-about-low-code-even-if-youre-not-responsible-for-software-delivery/