Airtable vs. Trello
Using a project management software platform to manage your company projects and integrate your team's tasks into one location is vital to ensuring projects are on time and on budget. Streamlined project management is essential to client satisfaction and company success. Without it, budgets are overspent and employee time is lost. Almost 10% of every dollar is wasted due to poor project performance.
A project management system ensures all team members know their individual responsibilities and the project priorities. With the right software tools, managers and owners maintain oversight of each project and evolve as needed.
Airtable and Trello are two project management and content storage platforms. Both are designed to help you move your project through each stage with better team collaboration and task delegation.
In this article, we will cover the features of Airtable and Trello, the pros and cons of each, and ratings for ease of use, price and value, extensions, and support so you can make the best decision for your business.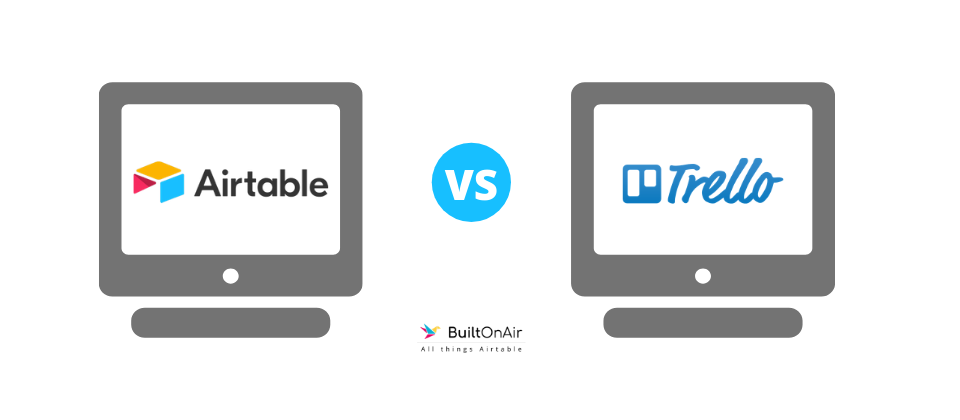 About Airtable and Trello
Airtable and Trello are two premium project and task management platforms to help companies collaborate and keep projects on track. These tools help you engage with your teammates, delegate tasks, and complete projects with ease. 
Airtable is an all-in-one online hybrid database and spreadsheet for managing business data and enhancing team and department collaboration. It was founded in 2012 and is used by over 80,000 companies. Their mission is to democratize software creation by enabling anyone to build the tools that meet their needs. They believe that the person who knows how to best do your work is you and it's also why you're the best person to create the software you need to do your work…without having to know how to write code.
Trello is a visual project and task management platform used by millions as a board-style system to help teams and departments move tasks through each step of a project. It was founded in 2011 by Fog Creek Software, now Glitch, as part of an internal exploration of new products. In 2017, it was acquired by technology company, Atlassian.
Why Your Business Needs a Better Solution
As an owner or project manager, you need to see an overview of where your projects are at any point in time. Your team needs a central location to view and take action on all tasks. 
An effective work management system includes the ability to collaborate with team members, communicate per task, track due dates, status, attachments, and create custom fields. An easy-to-use custom project management and database solution can be a perfect fit. 
Airtable and Trello offer companies a reliable platform making it simple and efficient for team members to collaborate and communicate to complete a project.
Why We Use Airtable
At BuiltOnAir, we are Airtable fanatics and use it to run our own businesses. Its customization features and flexibility make it a fantastic solution for companies in all different industries. 
With Airtable, you can store any type of information in its original format. With an easy-to-use interface, you can create your own custom app in a short amount of time. You don't have to know how to use databases or be a programmer to make Airtable work for your business.  
With Airtable, you can create your own custom layout using the simplicity of drag and drop. Each custom app in Airtable is called a Base. Airtable bases contain Tables and Fields. Fields include a variety of options such as Text, Numbers, Data Relationship Links, Barcodes, Users, Checkboxes, Formulas, and many more.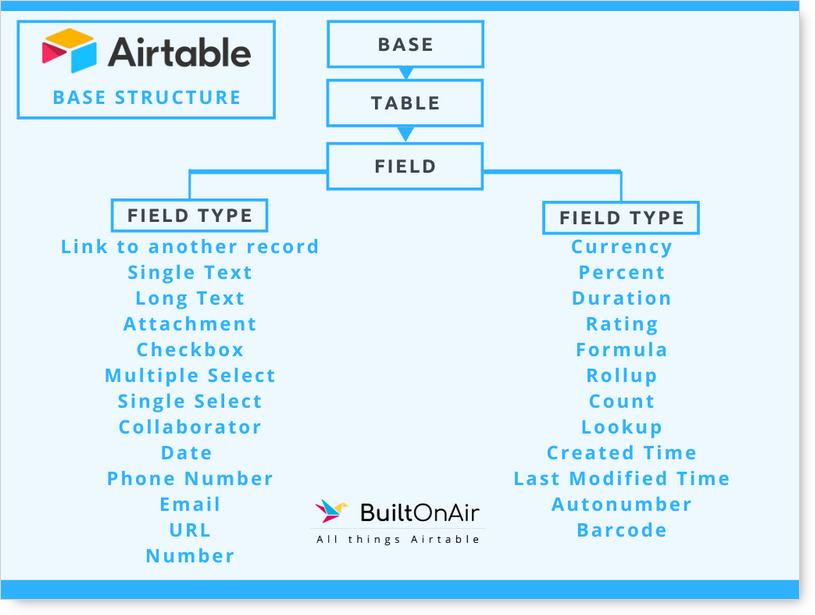 It also has multiple views such as Grid (spreadsheet-view), Calendar, Gallery, Kanban, and Form, enabling you to transform your data any way you like.
Airtable has special app fields that live on top of your Airtable bases called Blocks. Blocks expand your data even further to manage and maintain a dashboard of what's most important. Blocks include options such as Emailing and Texting directly from your base, Maps, Charts, Scripts (Custom Code), and several other helpful upgrades. Read all about Blocks on their site.
Airtable extends to almost any other software platform you use to run your company with On2Air: Actions. An advanced connector, On2Air: Actions, integrates your Airtable data with over 2,000 additional apps.
Create powerful business processes with almost 20 additional action options beyond the standard Airtable actions. 

On2Air: Actions is the solution you need to optimize your systems and enhance the information flow between Airtable and other apps.
To get started with Airtable, check out their Getting Started Guide. Then head over to their extensive collection of pre-made templates and view the amazing community-submitted templates.
Features of Each Platform
Here are the most common features of Airtable and Trello.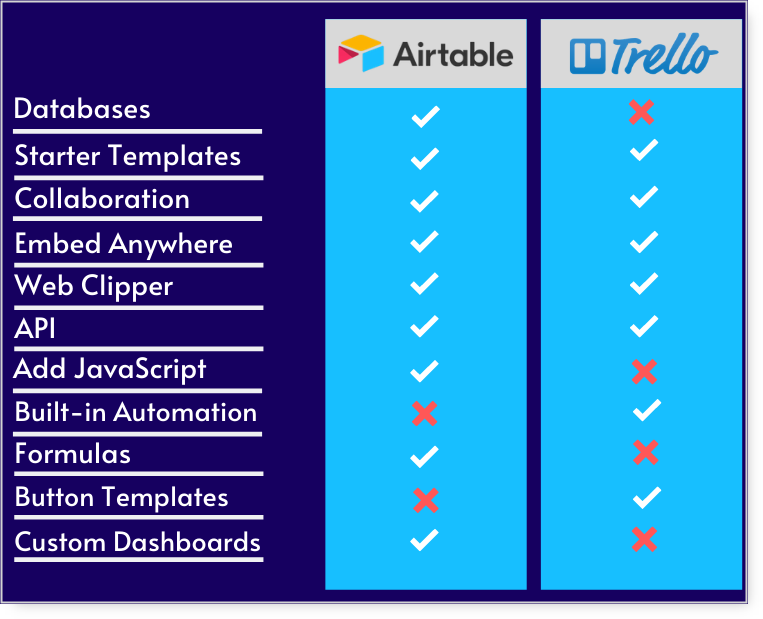 Pros and Cons of Each
Both apps can transform your business. Here are several pros and cons of each. 
Pros of Airtable
Airtable is a modern database platform allowing you to quickly organize and view your projects and data your way. It contains multiple field types and multiple views.  
Create a variety of custom fields and field types on any plan

– Your custom-designed, custom fields database can include text, numbers, formulas, percentages, created dates, relational fields, and many more.

 
Multiple views of your data

– Visualize your data in Airtable in a spreadsheet list view, gallery view, calendar view, or kanban board-style view.

 
Create custom dashboards with pivot tables and charts to display any data in your base

– Use a pivot table to visualize and group your data or create a bar, line, scatter, pie, or donut chart to analyze your information.

 
Add JavaScript code to a base to process and enhance your data – Use JavaScript to do just about anything with your data. You can

set default values

for your fields,

mail merge with a 3rd party service

, or create a

better content calendar

.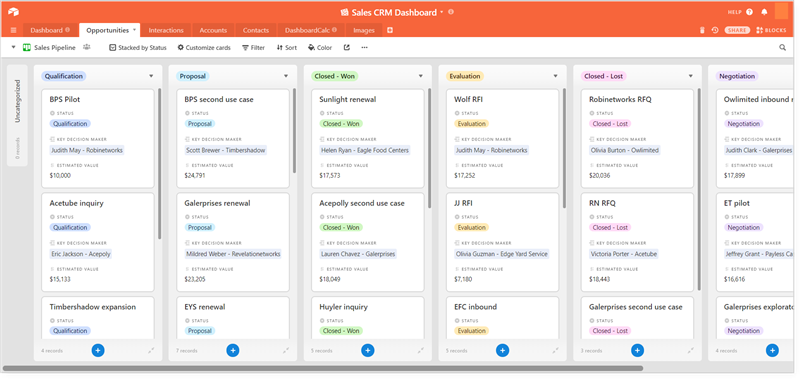 Airtable "Sales CRM"
Pros of Trello 
Trello is a collaborative, board-style project management application used by companies and individuals all over the world. Its simple style of planning and organizing company projects, family travel, real estate, and sales interactions make it a helpful solution for many businesses. It has built-in workflow automation, simple user interaction, and tasks that can be set as templates. 
Built-in automation –

Automatically add checklists, assign dates and collaborators, and move tasks to a different status.

Multiple native product integrations –

Add a variety of connectors and integrations to your Trello boards and cards.

Board templates and card templates –

Instantly extend any project with custom board and card templates to get your team moving.

 
Card repeater and custom action buttons –

Ensure you never forget tasks with recurring schedules for daily, weekly, monthly, and yearly reminders.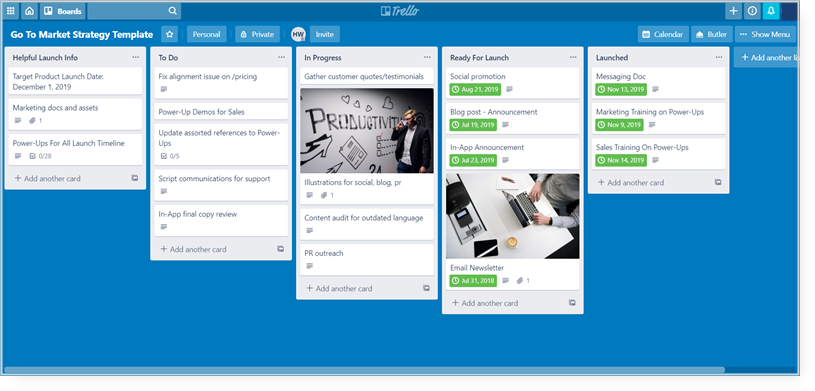 Trello "Marketing Strategy"
Cons
Even though both are project management solutions for your business, no software platform is perfect. Let's look at the cons of each app.
Cons of Airtable 
No built-in automation
Max attachment space per base of 20GB on Pro plan 
Mobile experience lacks many of the web app features
No custom action buttons
 Cons of Trello 
Not a full database solution to integrate your entire business
Very few custom field types
No custom document creation based on fields
Limited customization and basic storage
Platforms Available 
Airtable is available as a web app, so you can use it anywhere you have access to the internet. They also have a macOS app, Windows app, and it's available on both iPhone and Android. The Google Chrome extension from Airtable allows you to grab anything from the web and add it to Airtable. 
Trello is a web app so you can access it from most major browsers. For on-the-go, it's available on both iPhone and Android. They also have a macOS app, Windows app, and a Google Chrome extension.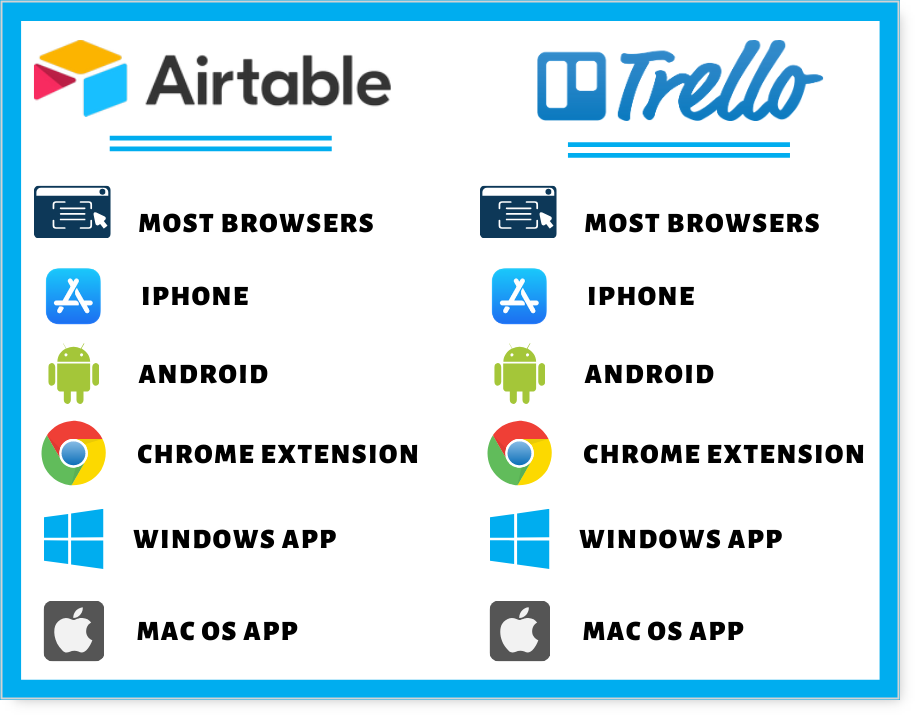 Ratings 
Let's rate the most common functionalities a business looks at when searching for a reliable software platform. These include ease of use, extensions and add-ons, price and value, and support. 
Ratings 
Let's rate the most common functionalities a business looks at when searching for a reliable software platform. These include ease of use, extensions and add-ons, price and value, and support. 
Ease of Use
Both
Airtable's modern interface feels like many other apps you already use. It's easy to create and navigate, and with a few simple instructions to start, you can get your entire company on board quickly.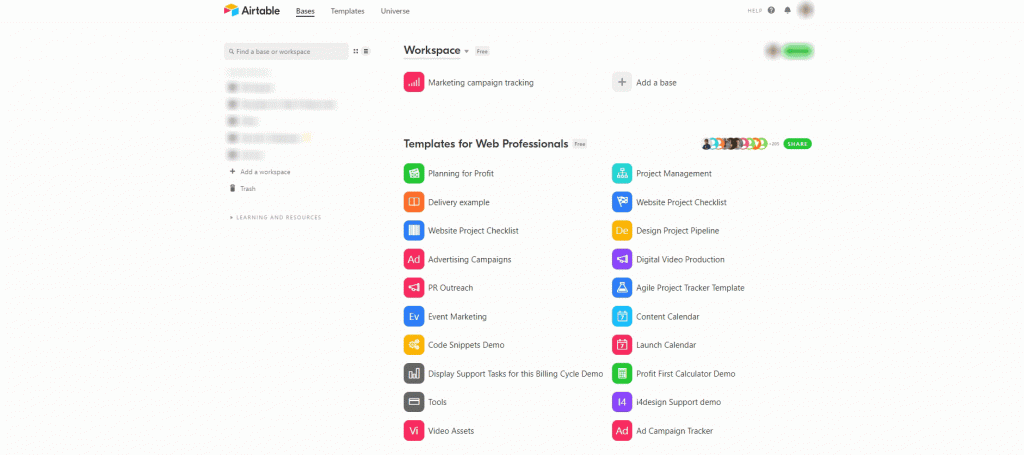 Adding a template base in Airtable
 Trello's boards and cards are easy to use and move around. It's simple to add users, due dates, and attachments to a card.
Extensions and Add-Ons
Both
Airtable and Trello both have built-in integrations and an API to connect to other services.  
Airtable integrates with Slack, Clearbit, Google Hangouts, Google Drive, JotForm, and many more. JotForm's integration with Airtable can be extended for maximum customization using On2Air: Forms.  
Trello integrations are known as "Power-Ups" and they include connections with Box, GitHub, MailChimp, Evernote, and more.
Price and Value
Airtable
Airtable offers a free tier for individuals to use as long as they need with many of the great features included except Blocks. Because Airtable is an online database giving you the option to organize any department, business function, or data, including using it for project management, it has tremendous value.  
Airtable has a $10 a month paid annually Plus plan, best used when you need to store more data. They have a Pro plan with upgraded features for $20 a month paid annually or $24 paid month-to-month. It includes features such as Blocks, advanced calendar options, custom colors, and branded forms. An Enterprise plan is available for organizations with a need for more administrative controls and dedicated support.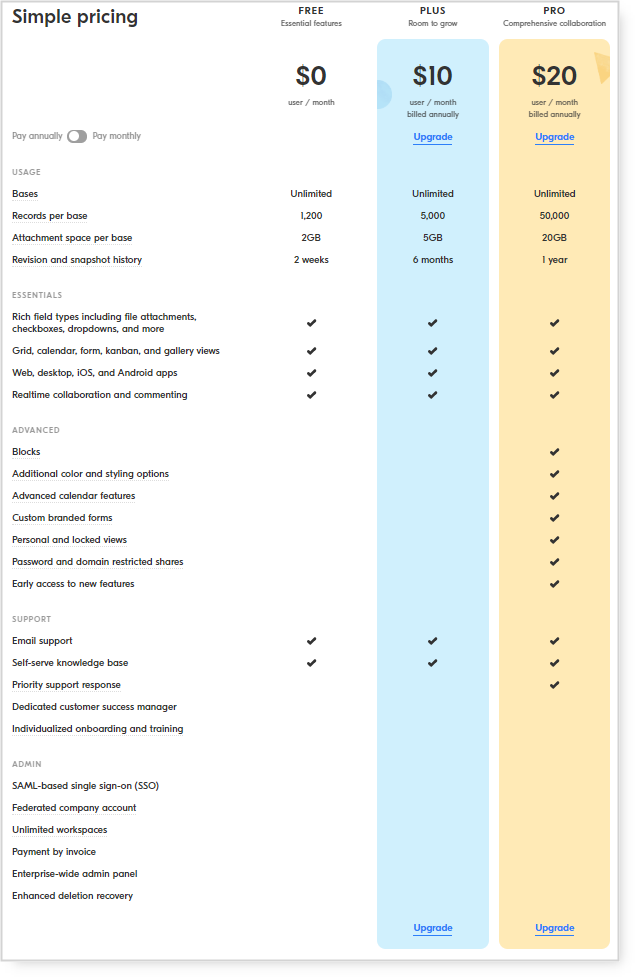 Trello has a free plan with limited features. To upgrade from free to a personal plan, you can use Trello Gold for $5 a month paid monthly or $45 paid annually. Trello Gold gives you several more options such as 3 Power-Ups, custom backgrounds, and extra sticker packs.
They offer a Business Class plan at $9.99 a month paid annually or $12.50 per month paid monthly. It includes unlimited Power-Ups, priority support, and increased attachment size uploads.
They also have an Enterprise plan starting with a minimum of 20 users with extended security and administrative features.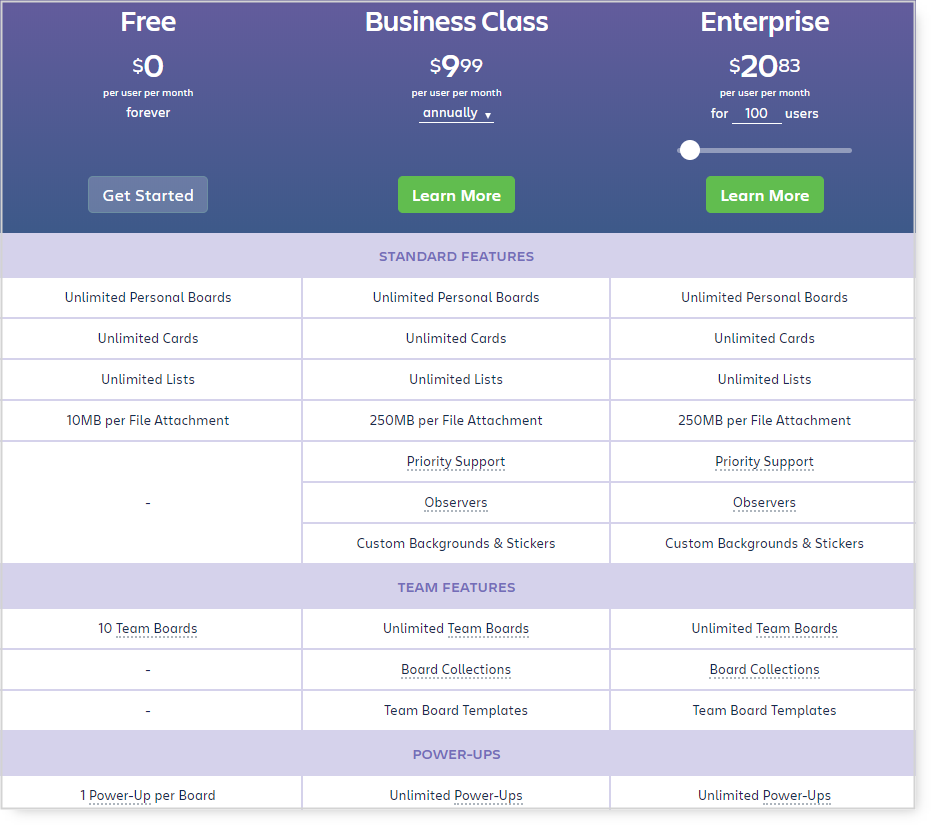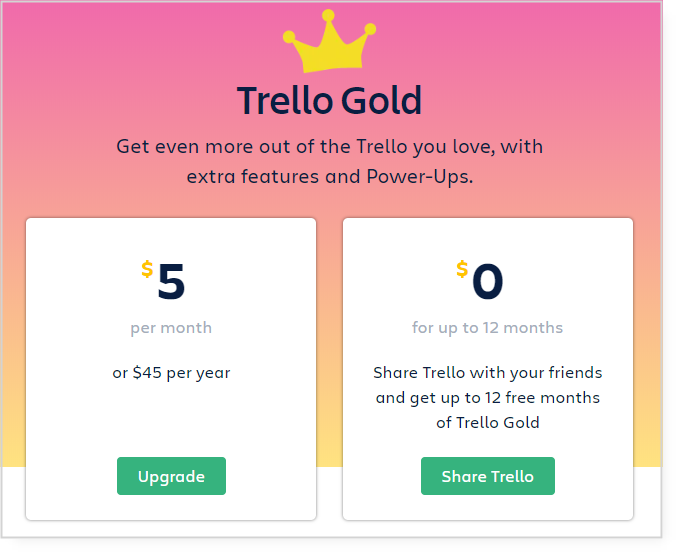 Support
Both 
Airtable support is available by chat or dedicated support on the Enterprise plan. Airtable replies within 1-2 days or quicker with priority support. Trello support is available through their online contact form directly from your board. Priority support is answered in one day.
User Reviews
Airtable
Airtable has a rating of 4.6 out of 5 on G2. 

Common positive reviews state Airtable helps with better document management, project collaboration, and is easily integrated with other software tools.

A user in consumer electronics raves about the filtered views and modern integrations, "I was a huge spreadsheet fan and would use them to solve all kinds of business problems. Airtable is so much more flexible because it's also a database with an API. You can use its many views (which are the key feature in my opinion) to display your data and interact with it in ways you never would in a spreadsheet. For example, in the kanban view, you can move records across columns in kanban style, changing the value of a dropdown for that entry. It's fabulous."

Rafiq, an Airtable user in a mid-market business, enjoys the simplicity of being able to manage data without having to know how to program, "I really like its layouts and simplicity for all members. You don't have to be professional on excel or any kind of programming language to manage and analyze your data, you simply have to be willing to play the data. You can integrate with other apps, I personally use it with slack for notifications and I just like it – a masterpiece! And the calendar view is another helper to follow everything on time not only by your side but my whole team to see the progress on a calendar base."
Negative reviews included frustrations when using larger datasets, lack of features on mobile, and a desire to use formulas in individuals cells.
Trello
Trello has a rating of 4.3 out of 5 on G2.

Positive reviews include several who appreciate the ability to use Trello to organize thoughts, assign team members to tasks, and outline projects. 

Derek K., Systems Engineer, enjoys the collaborative features, "Trello is perfect because it helps millions of people to communicate through a screen, whether for business meetings or personal matters. It is a complete and very well designed platform, it has a very fascinating interface, it has excellent functions such as creating a "virtual dashboard" that allows us to create within of these boards, lists, cards, invitations, among others, a function that helps us to be more productive and collaborative."

Erin M., a small business employee, is able to ensure her priorities always stay top of mind, "Being able to visualize my priority lists and communicate that with others. I also really love the flexibility and scalability of how one can use boards. In my previous company we were able to utilize boards to manage feature development, client invoicing, and even social event planning."
Negative reviews included a frustrating experience in sharing boards with others, a confusing user interface, and a negative search experience resulting in difficulty finding specific cards.
How to Migrate from Trello to Airtable 
If you are ready to make the move and migrate from Trello to Airtable for more in-depth project management and data structure, it only takes a few steps.  
Airtable has 2 import options: CSV imports and Table-style copy and paste imports.  
Trello gives you the option to export as a JSON on any plan, including the free plan. If you are on the Business or Enterprise plan, you can export all boards in your team as a CSV. 
The best way to migrate your data from Trello to Airtable is to export your boards as a CSV. If you are on the free plan that does not have a CSV export, your best option is to upgrade to the Trello Business plan for one month and export your boards as a CSV.  
While there are JSON to CSV converters available, it will be a struggle to import your data into Airtable properly. 
To export your Trello boards, go to your Team page and click the Export tab. 
Click the checkbox to Include raw attachments. 
Click Create New Export. 
Once exported, click the Download button. 
Your boards will export in a ZIP file containing your CSV and individual attachments.  
To import into Airtable, open your workspace and click Add a base > Import a spreadsheet.


Next, you will click Choose a .CSV file and choose your CSV file. 

 Finally, click Upload. 
Airtable will create a new field for each CSV column header and then add each row in your CSV as a new record row in Airtable. 
You can then go into the Base and change the Column Field Types to fit your specific data needs. You will need to manually add attachments to an attachment field in Airtable. 
It won't be perfect at first and will take some adjustments. (No software transition is completely seamless!) However, once you begin using Airtable, you will quickly see just how simple and awesome it is!
Additional Airtable Resources and Tools
BuiltOnAir is your resource for all things Airtable. We have a directory of the best Airtable Product Extensions and Tools, Communities, Consultants and Service Providers, and Scripts. If you want to read about specific industries using Airtable, check out our Ultimate Airtable Industry Guides. We also have a podcast featuring Airtable users from a variety of industries and companies.
If you want to stay up to date on all things Airtable, subscribe to the BuiltOnAir newsletter for a weekly update of all things Airtable and community-related. We never send promotions (other than the occasional note from our sponsor, Openside), and do our best to curate the most relevant content in the Airtable space.
On2Air | Openside
BuiltOnAir is proud to be sponsored by Openside, a talented consulting and development company that has built advanced integration and workflow tools for Airtable. 
As the only provider of premium products and services for Airtable, Openside not only builds Airtable integration tools but supports them with a unique array of services and solutions for companies. 
Two of the best tools for Airtable business professionals are: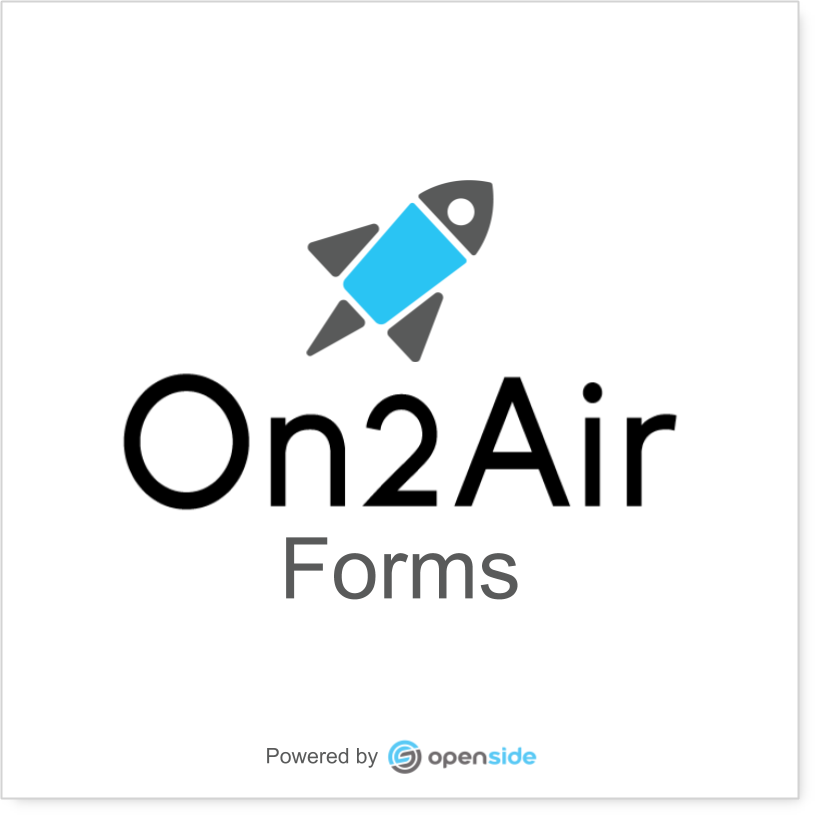 On2Air Forms combines JotForm's robust form-building capabilities to pull Airtable data into your forms and then push form responses back to Airtable.
Key features:
Pull any data from your Airtable databases into forms
Search within databases for form options
Auto-populate forms from pre-existing data
View names or filters from Airtable in your forms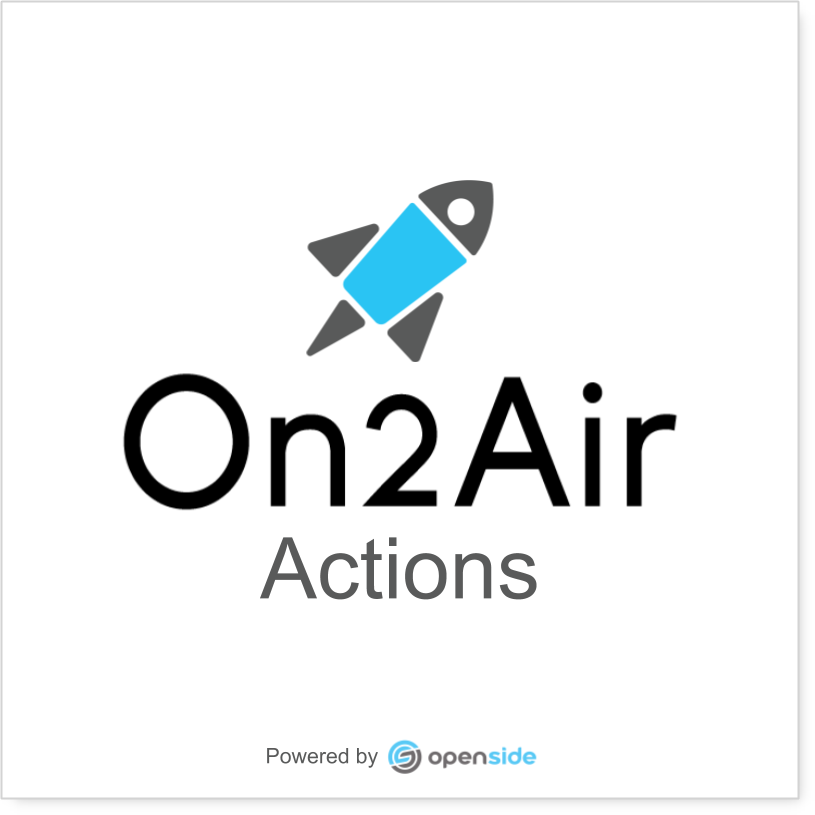 An advanced integration and automation tool perfect for workflows. With this tool, you can:
1) Integrate Airtable with a large variety of apps used in your workflows and reduce manual work 
2) Gain access to advanced options (not possible with other Airtable connectors on the market) to make everything more simple and powerful
Key features of the On2Air: Actions tool:
Trigger changes to your bases from a large variety of choices
Update or delete fields and records according to desired criteria
Find or create records according to ID, views, or other options
Pull data from external systems into your Airtable schema automatically
Summary
When choosing a project and workflow management software, Airtable and Trello are both helpful tools for organizing your project needs. 
Each has a variety of features to use depending on your unique requirements and services. If you want a powerful project management and database solution that's easy to set up and organizes your data, Airtable is a top choice. If you want a simplified project management tool for individual departments and no other business data storage, Trello is the solution for you. 
At BuiltOnAir, we are advanced Airtable users and business owners and have seen how versatile it can be for anyone. It's an innovative online, relational database but practical enough to extend throughout your entire company. We recommend Airtable as an easy-to-use solution for project management and customizing your business needs.