Season 4 of the BuiltOnAir Podcast just wrapped up last week. 
In Season 4 of the BuilOnAir Podcast, we had guests with incredible talents join us from all over the world. From France, Spain, Texas, and all along the West Coast, we were privileged to hear some amazing stories and see some fantastic Airtable demos. Our guests this season ranged from CEOs, Start-Up Co-Founders, Tech Guru's, and Life Coaches, and each one of them brought something unique to the table. 
In short, this season has been full of some pretty talented Airtable loving people.
During season 4 we also got to see tons of demo bases that were skillfully created for professional use cases, as well as a few personal use cases too. This season we got to take a behind the scenes look at some great tools that can be integrated into Airtable (approval systems, backups, miniExtensions), got to see some great trackers and planning bases, bases on managing subscriptions and CRM's, and even a babysitter tracker for busy professionals. 
Our team at BuiltOnAir has been blown away by all the talent we've seen this season and we are so thankful to have been able to hear all our guest's stories and see the creative approach they are taking with Airtable. We are also so incredibly thankful for our ever-growing audience, who are the reason we do this in the first place. Our podcast has reached even more listeners this season and it has been a joy to watch. To make sure you are kept in the loop on future updates and episodes, you can subscribe here so you don't miss a thing. 
We are already hard at work planning for another great season filled with more Airtable fanatics sharing their stories, showcasing unique bases, and hopefully inspiring others to dive headfirst into to tool that we all love so much. As always, we love hearing from our audience and what you want from our podcast. We take your ideas and use them to help us stay focused on bringing quality content, excellent and useful demos, and an overall great show. 
The following are some of the exciting reports we have on the podcast audience. Here are listener trends from Season 4. (January to March)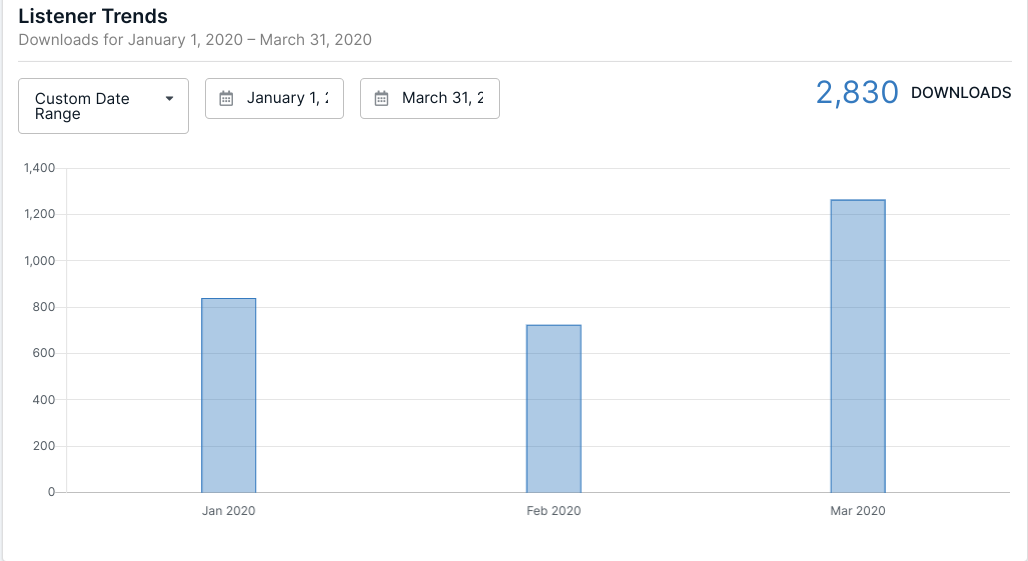 The other exciting statistic for us continues to be seeing the podcast audience sprout up around the world, as illustrated by this map:
Season 4 had a total of 2,751 downloads as of March 31:
Season  Quick Links
In the section below you can find a brief review of each episode from season 4, including the featured guest, listening length, when the podcast was aired, and a summary of what the episode was about. Simply click the links associated with an episode to be taken to the podcast page that includes the full video, an audio downloadable version, and show notes, as well as associated links to learn more about the expert's work.
Here's to another great season starting in May 2020! In the meantime be sure to get subscribed, and watch the Spring Series roll out until then. See you there!