Season 5 of the BuiltOnAir Podcast just wrapped up last week. 
Throughout Season 5 of the BuiltOnAir Podcast, we had the opportunity to chat with some pretty talented guests and learn some cool tips and tricks to store in our back pocket when using Airtable. Our guests this season were CEO's, developers, community leaders in the Airtable forums, hobbyists, and even a Genealogist. All of them brought unique content and shared incredibly creative ways to work with, and around, Airtable. 
To summarize, this season has been jam-packed with Airtable talent. 
Along with getting to meet some extremely talented individuals, we were able to see the fruits of their labor in the demo bases they shared with us. We saw a range of bases that were aimed at community outreach, productivity, and many that were geared for personal use like tracking your family history, playing games, and tracking your movie and music habits. All of them brought a different use case for Airtable in their own unique way.  
Our team here at BuiltOnAir is constantly taken back by all the stories and awesome Airtable skills that we get to see first hand. We are always thankful for the privilege to meet so many wonderful people and for our ever-growing audience. This season we have been able to reach even more listeners from all around the world and for that, we are especially grateful. If you aren't already signed up to receive updates and future episodes, you can subscribe here to make sure you don't miss a thing. 
Our team is already working on another BuiltOnAir Podcast season that is filled with even more Airtable enthusiasts and amazing showcase bases. Our goal of the podcast has always been to highlight awesome people doing awesome things in Airtable and we know that next season will live up to our goal. As we work, we are always looking to hear from our audience on what you want from our podcast. We love hearing your ideas and we use them to help produce quality content. If you have any feedback please feel free to reach out to us! 
Below are some of the exciting reports we have about our podcast audience. Here are some listener trends from Season 5. (May to July)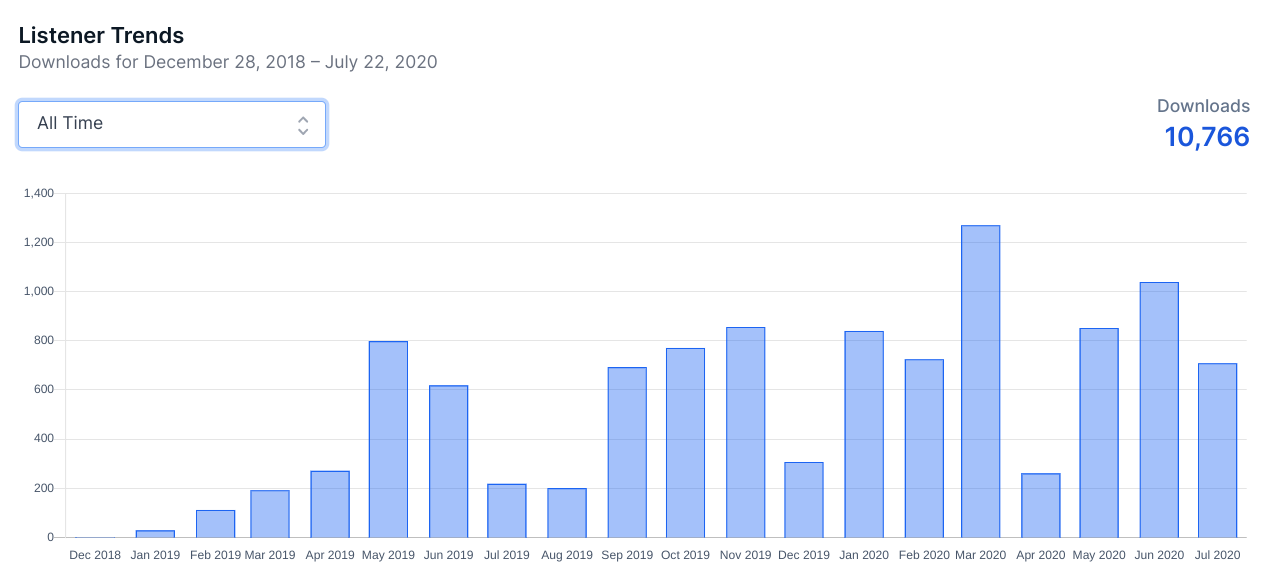 The other exciting statistic for us continues to be seeing the podcast audience sprout up around the world, as illustrated by this map:
Season 5 had a total of 2,571 downloads as of July 22:
Season  Quick Links
In the section below you can find a brief review of each episode from season 5, including the featured guest, listening length, when the podcast was aired, and a summary of what the episode was about. Simply click the links associated with an episode to be taken to the podcast page that includes the full video, an audio downloadable version, and show notes, as well as associated links to learn more about the expert's work.
Here's to another great season starting in August 2020! In the meantime be sure to get subscribed, and watch the Spring Series roll out until then. See you there!