Season 6 of the BuiltOnAir Podcast just wrapped up last week. 
As sad as we are that Season 6 is already done, we want to take the time to look back at another amazing season. Throughout Season 6 of the BuiltOnAir Podcast, we had the opportunity to chat with some pretty talented guests and learn some cool tips and tricks to store in our back pocket when using Airtable. We had a variety of guests from CEO's to photographers; all of them brought unique content and shared incredibly creative ways to work with, and around Airtable. 
To summarize, this season has been jam-packed with Airtable talent. 
Along with getting to meet some extremely talented individuals, we were able to see the fruits of their labor in the demo bases they shared with us. We saw a range of bases to help companies work at maxim productivity. This season was especially interesting because we learned how our guest's used Airtable to find creative solutions for new problems created by the Covid-19 pandemic. All of them brought new tips and tricks for Airtable users everywhere to incorporate into their business and personal projects.
Our team here at BuiltOnAir is constantly taken back by all the stories and awesome Airtable skills that we get to see first hand. We are always thankful for the privilege to meet so many wonderful people and for our ever-growing audience. This season we have been able to reach even more listeners from all around the world and for that, we are especially grateful. If you aren't already signed up to receive updates and future episodes, you can subscribe here to make sure you don't miss a thing. 
Our team is already working on another BuiltOnAir Podcast season that is filled with even more Airtable enthusiasts and amazing showcase bases. Our goal of the podcast has always been to highlight awesome people doing awesome things in Airtable and we know that next season will live up to our goal. As we work, we are always looking to hear from our audience on what you want from our podcast. We love hearing your ideas and we use them to help produce quality content. If you have any feedback please feel free to reach out to us! 
Below are some of the exciting reports we have about our podcast audience. Here are some listener trends from Season 6. (September to November)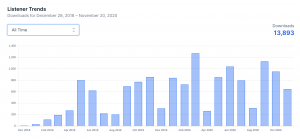 The other exciting statistic for us continues to be seeing the podcast audience sprout up around the world, as illustrated by this map:
Season 6 had a total of 2,873 downloads as of Nov 20:
Season  Quick Links
In the section below you can find a brief review of each episode from season 6, including the featured guest, listening length, when the podcast was aired, and a summary of what the episode was about. Simply click the links associated with an episode to be taken to the podcast page that includes the full video, an audio downloadable version, and show notes, as well as associated links to learn more about the expert's work.
Episode 1: Dan Fellars, Founder of Openside
August 31, 2020 5:00am PDT
In this episode, Dan Fellars returns to give us a deep-dive into some newer products offered by his company, Openside. Dan showcases On2Air Schemas, which allows users to track every bit of metadata associated with a particular base over time.
Episode 2: Jérémy Chevallier, designer and marketer
September 7, 2020 6:00am PDT
Jérémy shows us the base that he credits with helping his business, PubLoft, get to $24,000 a month in revenue in just seven months. Today, Jérémy is working on projects such as Crash.Co, a job-hunting site with a personalized twist, and GigLoft, which teaches freelancers how to run their own business.
Episode 3: Jason Humphrey, Developer and Career Coach
September 14, 2020 6:00am PDT
Jason is the founder of Coding Career Fastlane, an online community focused on improving developers' skill sets by offering personalized feedback and creative approaches to handling a job search. He shares two bases with us today, both of which are part Coding Career Fastlane's 10-Day Job Hunt Challenge.
Episode 4: Brian Swichkow, Founding Citizen at One Inc Cooperative
September 21, 2020 6:00am PDT
In this episode we're joined by Brian Switchkow, a founding citizen at One Inc Cooperative. One Inc operates as a member-owned, member-controlled virtual economy dedicated to fostering a supportive ecosystem of creatives, entrepreneurs, and investors. Brian's two Airtable bases have a number of fields, views and tables that it allows citizens to interact with clean, simple interfaces.
Episode 5: Aron Korenblit, Airtable Education Team
September 28, 2020 5:00am PDT
This episode is with Aron Korenblit from the Education team at Airtable. Aron talks with us today about the exciting release of the Airtable Platform.
Episode 6: Jennifer Selke, Director of Veteran Programs and Campus Outcomes
October 5, 2020 5:00am PDT
In this episode we talk to Jennifer Selke, Director of Veteran Programs and Campus Outcomes at Camp Southern Ground, an incredible non-profit which operates as both a summer camp for kids, and a year-round resource center for veterans. Jennifer was able to put together a simple one-table base to curate a list of 100+ resources for military veterans.
Episode 7: Nicolas Grenié, Developer Advocate
October 12, 2020 5:00am PDT
In this episode we're joined by Nicolas Grenié, a developer advocate at Typeform. Nicolas tells us about his custom Shipping block and the customs blocks made by Typeform.
Episode 8: Lisa-Marie Pierre, Ascend NYC Program Manager
October 19, 2020 5:00am PDT
Lisa-Marie Pierre, a program manager for Ascend NYC shows us how Airtable helped her program during Covid-19. She also explains her idea tracking base.
Episode 9: Shae Redding - Rogers, Architectural Photographer
October 26, 2020 5:00am PDT
In this episode we speak with Shae Redding – Rogers, an architectural photographer. We talk about formulas to help automate bases more.
Episode 10: Chris Guthrie, E-Commerce Expert
November 2, 2020 5:00am PST
This episode we are joined by Chris Guthrie, a E-commerce expert. Along with having his own products on amazon, he also helps other sellers grow their business with Airtable and automation.
Episode 11: Matthew Baggetta, Marketing lead and content strategist
November 9, 2020 5:00am PST
This episode we have the pleasure of hearing from Matthew Baggetta. Matthew works in marketing and has his own meditation training program. He also shows us his Content Asset Tracker base.
Episode 12: Mike San Marzano, Creator of Airconnex
November 16, 2020 5:00am PST
We are joined by Mike San Marzano the creator of Airconnex. Mike gives us a demo of the product and how it creates websites run on a single Airtable base.
Here's to another great season starting in January 2021! In the meantime be sure to get subscribed, and watch the Winter Series roll out until then. See you there!