Hey there!
Here are a few things we wanted to share with you this week from the Airtable and the BuiltOnAir Community! 
📣 Discussions in the BuiltOnAir Airtable Community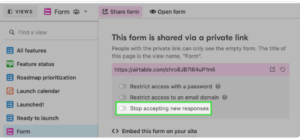 🎙The Latest BuiltOnAir Podcast
In episode two of the new season, our hosts are joined by Jen Rudd of growwithjen.com 
We want to hear from you!
What was your favorite segment about this episode? 
What should we talk about on the next podcast? 
Who should we get on the show?
Airtable App Marketplace Highlights
On2Air:Backups – an automated backup solution for your Airtable bases. Create scheduled backups of your critical business data & attachments stored in Airtable and export your information to Dropbox, Box, or Google Drive.
On2Air:Schemas – generates a diagram to visualize your Airtable base structure and track changes to meta information for all tables, views, fields, and relationships. Understand and view your Airtable base configuration at a glance.
Airtable Universe Highlights
Campsite Reservations Tracker – "This reservation tracker helps you avoid that outdoorsy crisis by listing all of the campsites you wish to visit in the future along with their respective booking details. Plan out the dates you want to go and watch in organized satisfaction as you are notified when the reservation window opens for your upcoming trip. Less weekend fomo → more blissful tent time. Happy camping everyone!"
Be on top of your expenses – "In attempts to get better with my finances, I've tried it all. From taking photos of my receipts, to setting up Mint and connecting it with my online banking, to managing a Google Sheet to keep track of my expenses. Nothing quite comes together like this Airtable base. It's a cumulative result of over three years of trying different systems out and incorporating their best parts while filtering out the rest. I've scrubbed some personal data and randomized some numbers for anonymity. But the structure is 100% unchanged."
BuiltOnAir.com Resources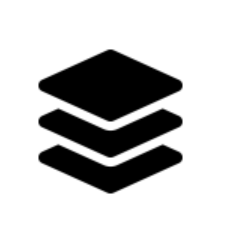 Bases – Make airtable collaboration seamless: sync any base, table, fields or views.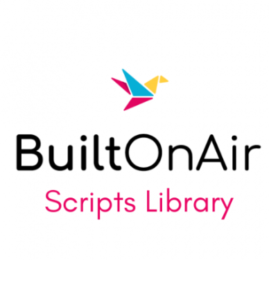 SCRIPT DIRECTORY FROM BUILTONAIR – "Airtable recently released a brand new Block: the Scripting Block. Power users have been building some amazingly useful options for it and we made a central place to keep all the scripts made by the community, to help you get the most out of it."
— Love, the BuiltOnAir Team